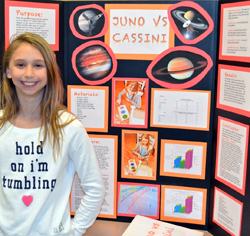 Blame it on the school spelling bee. Running into the word "astrophysicist" set this student off on a path of scientific interest and inquiry that has fueled her
science projects for the last three years.
A version of her fifth grade science fair project on the relationship between a planet's gravitational field and the speed of a satellite's rotation is now being developed as a new Project Ideas at Science Buddies!
Hear what 2012 NCSEF and Intel ISEF award winners, Kelly Roddick and Lauren Huffstetler - NC State University 2016, have to say as they reflect on the value of engaging in science and engineering research by competing in the NCSEF.
The Education Office at NASA's Jet Propulsion Laboratory (JPL) has released a video series designed to take teachers, students, and parents through the process of crafting a science fair project.
The six-part video series features JPL scientist Serina Diniega, engineer Arby Argueta, and educator Ota Lutz, who team up to take viewers step by step through the project design process, from generating an idea to communicating the final results in an attractive display.
Read more: Learn How to Do a Science Fair Project—New Video Series from NASA JPL