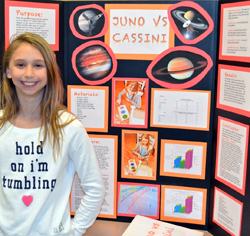 Blame it on the school spelling bee. Running into the word "astrophysicist" set this student off on a path of scientific interest and inquiry that has fueled her
science projects for the last three years.
A version of her fifth grade science fair project on the relationship between a planet's gravitational field and the speed of a satellite's rotation is now being developed as a new Project Ideas at Science Buddies!
Hear what 2012 NCSEF and Intel ISEF award winners, Kelly Roddick and Lauren Huffstetler - NC State University 2016, have to say as they reflect on the value of engaging in science and engineering research by competing in the NCSEF.
North Carolina was represented by 16 students with 12 projects at the 2012 INTEL International Science and Engineering Fair (ISEF) in Pittsburgh, PA on May 13 – 18, 2012. The North Carolina students came from the three NC ISEF affiliated fairs: the NC Science and Engineering Fair (12 students with eight projects), the Central Regional Fair (two students with 2 projects), and the Charlotte-Mecklenberg Fair (two students with 2 projects). Overall ISEF had 1,549 student finalists competing from all over the U.S. as well as 68 different countries, regions, and territories. Our students won six awards at the Special Awards Ceremony and five awards at the INTEL ISEF Grand Awards.
Check out the North Carolina winners!
Read more: North Carolina Winners at the 2012 ISEF
Kevin Frink, a student at Isaac Bear Early College High School in New Hanover County, recently won 2nd place for physics in the Taiwan International Science Fair for his project "Carbon Nanostructures Via Dry Ice Exposed to High Temperature". Kevin was a top winner at the 2012 NC Science & Engineering Fair and earned a spot at the 2012 International Science and Engineering Fair in Pittsburgh. There he won the K. T. Li Foundation Special Award which covered travel and expenses for the Taiwan International Fair.
Read more: NCSEF Student wins 2nd Place in the Taiwan International Science Fair
Thank you for your payment. Your registration payment for the NC Science and Engineering fair has been completed, and a receipt for your purchase has been emailed to you. You may log into your PayPal account to view details of this transaction.